Hosick Lecture Hall. University of Maryland Baltimore School of Medicine.
New teaching methods based on technology and interactive dialog between students and the professor required improved acoustics, sight-lines, seating, device connectivity, lighting and lecturer audio visual control. The renovation of this tiered lecture hall accommodates over 100 students.
This interior renovation transformed this lecture hall into a modern teaching space. New entrance doors were designed, along with interior finishes with maple paneling and acoustical wall panels and custom student tables with built-in power and data connections were provided. New projection systems/controls for enhanced audio and a teaching podium was designed.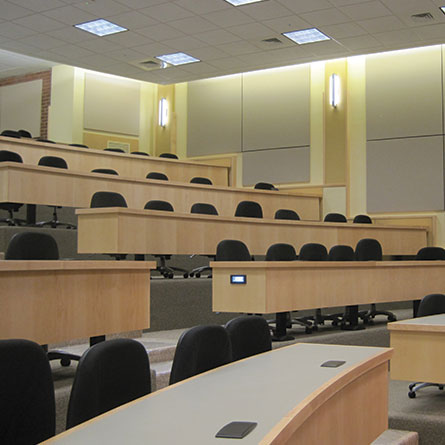 Architecture
Acoustic wall panels, reconfiguration of seating, replacing floor and ceiling finishes were designed.
Interior Design
Features include new custom, fixed maple student tables with laminate tops and built-in power and data connections and acoustically treated wall in accordance with acoustical report specifications and recommendations. Cove lighting was provided around the perimeter.