Essex Middle River Waterfront Destination. Baltimore, Maryland.
Twenty picturesque acres along Middle River offer exciting waterfront destination possibilities to a community and bring new growth to the area.
The Baltimore County Department of Economic Development commissioned an assessment of a possible new waterfront destination with the hope of capitalizing on the unrealized potential of the area's 175 miles of Chesapeake Bay. The site was home to three operating marinas: Buedel's Marina, Riley's Marina, and Cutter Marine and offers a waterfront setting with ready access to the Bay, over 400 existing boat slips, and has convenient access to I-695 and I-95.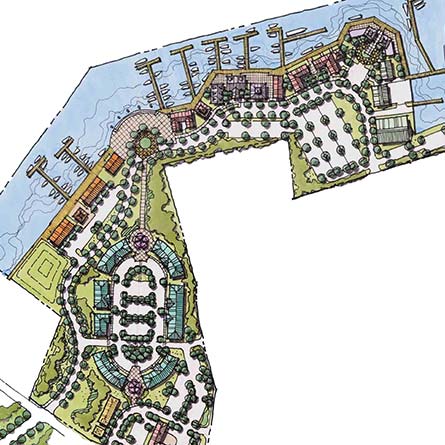 Planning
Input from project stakeholders was collected in order to create preliminary concept site plans, renderings, and project cost estimates. The summarized findings were reported to the county and presented to the community in an informational meeting.
Environmental
Preliminary investigations of existing onsite stream/wetlands and forested areas were performed to support the evaluation of destination alternatives. A dialog with environmental regulatory agencies was also created.