Colesville Maintenance Facility. Montgomery County, Maryland.
Modernization of this county facility was paramount to road maintenance and safety in Montgomery County.
The renovation and addition to the 7,000 SF depot resulted in a new 12,000 SF maintenance facility. The facility includes offices, crew/bunk/training room, and service bays capable of handling large trucks. The extension of covered truck parking for 50 spaces and covered material bins were also included in the design. A 10,000 ton salt storage facility, which includes a large salt barn with lean-to for crew equipment, was incorporated in the maintenance facility campus. This facility is designed to LEED Gold.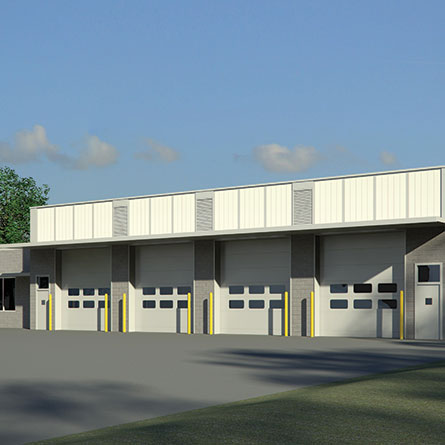 Civil/Land Development
A water quality plan was prepared, and an offsite drainage conveyance system was designed along with site grading, utility design, a retaining wall, and erosion and sediment control. The project included the preparation and securing of WSSC and County permits/approvals.
Architecture
Combination cladding of block, brick and metal were incorporated at existing and new walls, light reflecting roofing, large glass and fiberglass fenestrations, interior light tubes, all new interior finishes, folding partitions, and new exterior canopies.
Mapping/GIS/Surveying
Survey for GPS control, topographic, boundary, right-of-way establishment, utilities, soil boring stakeout and forest conservation easements were provided for upgrades to this facility. All work was done to Montgomery County Department of Public Works and Transportation standards and tied NAD'83/NAVD'88 Datum.
Landscape Architecture
Four micro-bioretention facilities were designed for this facility. Screening of mechanical equipment using a living green wall was also done. Trees were replaced using all native plant species including a native grass seed mix.