Broad Run Watershed Study. Prince William County, Virginia.
Located in Prince William County, Virginia, the Broad Run Watershed Study encompassed stream restoration and stormwater management design elements.
The County commissioned a study to be performed within a defined budget and which could deliver projects that could move quickly into design. To address the County's objectives, WRA narrowed the focus from the entire 85 square mile watershed down to individual projects for which conceptual designs were developed. The screening process included watershed characterization, desktop analysis, and field inspections in order to identify the most viable projects possible within the funding limitation of the study. The study was presented to the public in two informational meetings. Conceptual designs consisted of narratives, sketches, photographs and cost estimates.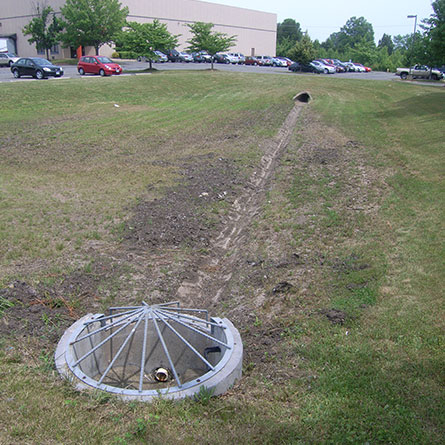 Mapping/GIS/Surveying
WRA compiled County GIS data, along with data from external sources, including the U.S. EPA, Natural Resources Conservation Service, and the VA Department of Environmental Quality, reviewed the material, and corrected any inaccuracies. Five (5) representative subwatersheds were selected for detailed study.
Stream Restoration
WRA performed a desktop analysis, targeting approximately 19,387 linear feet of streams for detailed field assessments. Field assessments were conducted using a modification of the Rapid Stream Assessment Technique (RSAT). Problem areas were documented using the Unified Stream Assessment method.
Stormwater Management
A desktop screening process evaluated 88 above ground stormwater facilities and targeted 34 existing wet and dry pond BMPs for field inspection. Ten conceptual designs were developed which included repairs to failing or substandard facilities as well as water quality retrofits.