BMP 16059 Retrofit. Edgewater, Maryland.
The retrofit of stormwater management BMP 16059 included the assessment of its functionality and the development of concepts and final construction documents for its functional and aesthetic enhancement.
WRA performed the retrofit under an open-end hydrologic/hydraulic engineering services contract with the Maryland State Highway Administration. The BMP was intended to treat stormwater runoff from MD 214, while also accepting runoff from several large offsite developments. From investigation of the original design documents and several field visits, WRA concluded that the facility was not functioning as intended. WRA proposed retrofitting of the facility with a multiple pond system to treat both water quality and quantity efficiently while also providing aesthetic enhancements. This included the minimization of impacts to a tree buffer by integrating landscaped islands into the design of the facility. The completed facility met dam safety regulations pursuant to MD Pond Code 378 and the requirements of the Joint Federal/State Wetlands and Waterways Permit.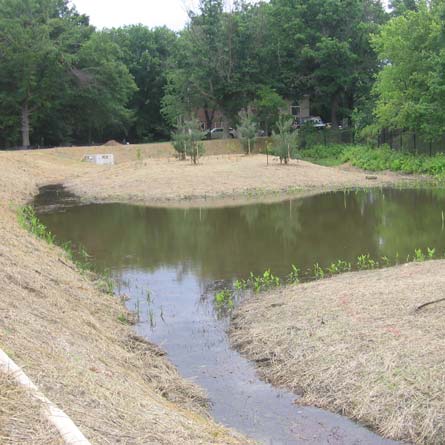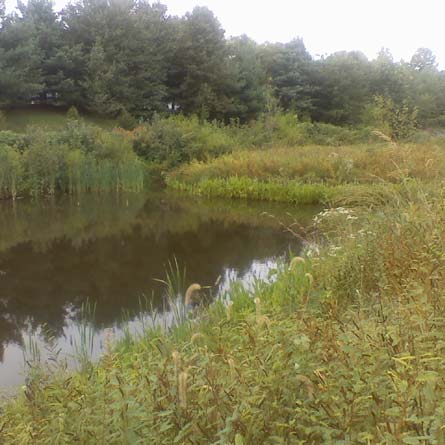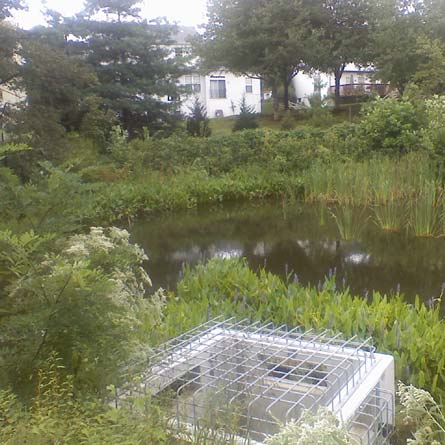 Water Resources
The final design consisted of two (2) pre-treatment forebays, three (3) wet pools with varying depths, maintenance access roads, replacement of the riser structure, embankment cutoff trench, emergency spillway installation and landscaping. Pipes were installed to collect additional roadway runoff.