Anacostia Water Pumping Station. Washington, DC.
In 2000, DC Water determined that replacing the existing Anacostia Water Pumping Station on the same site was the most feasible and cost effective course of action.
WRA designed the new 83 MGD pumping station in 2005 and construction was completed in the fall of 2008. The structure, of brick and block construction, is approximately 135 feet by 90 feet. The pumping station is approximately 24 feet high to accommodate the installation of a traveling bridge crane for maintenance purposes. Special design features include 12 finished water pumping units (150-600 hp), bleed down valves, dual electrical feeders, 1,500 kW emergency generator, new electrical substation, and remote monitoring and control from a remote central operator's location in the Bryant Street Pumping Station. The station is now in service and provides water to three pressure zones in southeast DC.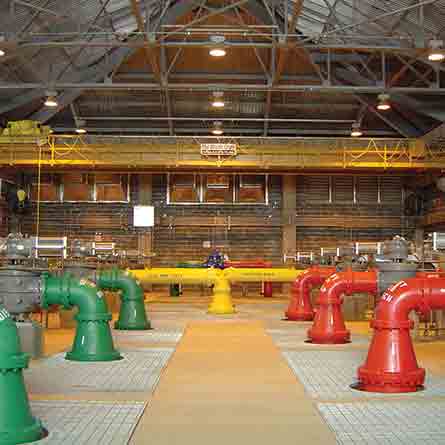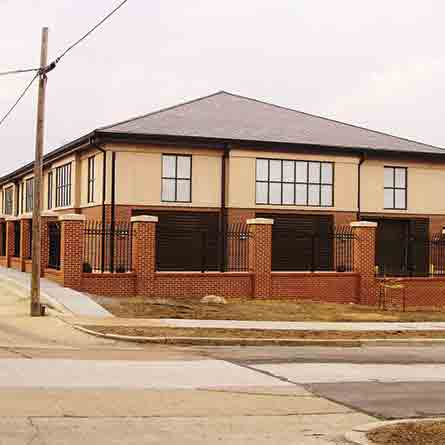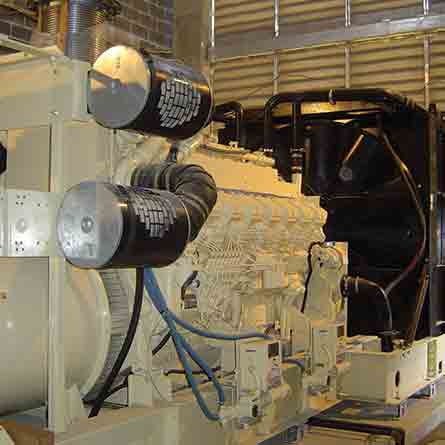 Water Pumping
Twelve pumps supply three pressure zones on the Anacostia River. Bleed-down valves allow water from higher pressure zones to be released to lower zones at controlled rates. Pipelines connecting the new station to existing transmission infrastructure required careful consideration of construction sequencing, shutdowns and testing/startup.
Architecture
The architectural design of the new station harmonizes with the former pumping station, which remains on site. New perimeter wall and fencing provides screening and security while also providing a look consistent with the former station's appearance.
Structural
The new pumping station roof trusses support a traveling bridge crane for maintenance of pumps, motors and valves. Suction and discharge piping is largely below grade to facilitate movement about the station by operations and maintenance personnel.