Administration Offices, The Kirk Stieff Building. Baltimore, Maryland.
Offices within the historic Kirk Stieff Building were developed into modern office space.
The interior renovation for 9,400 SF of the former silver factory building into offices and studios included plan reconfigurations for open and private offices, library, work room/pin up area, large and small conference rooms, administration/marketing suite, kitchen/break room, and award gallery walls. The lighting was developed for visual excitement in the space, and the mechanical system modified for the new plan.
A translucent sliding wall allows the large conference room and the work room/pin up area to be combined for dramatic client presentations and office-wide functions. A new spiral stair provides additional vertical circulation to the mezzanine and adds a sculptural element to the break room. Furnishings include a custom-built reception desk and workstations combined with off-the-shelf pieces for the lobby and lounge areas. Dynamic colors, patterns, and forms present a fresh image and enhance areas where natural light is limited.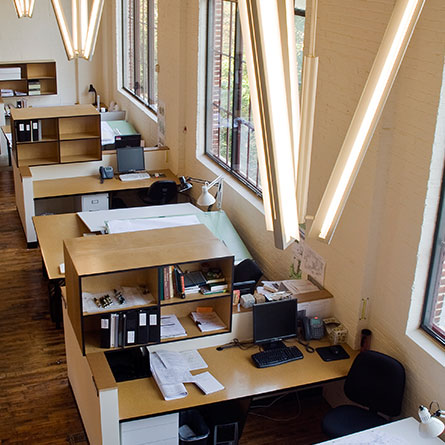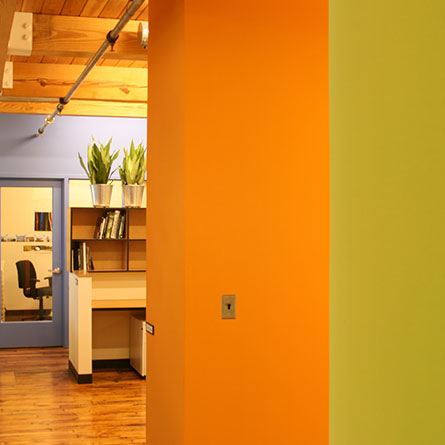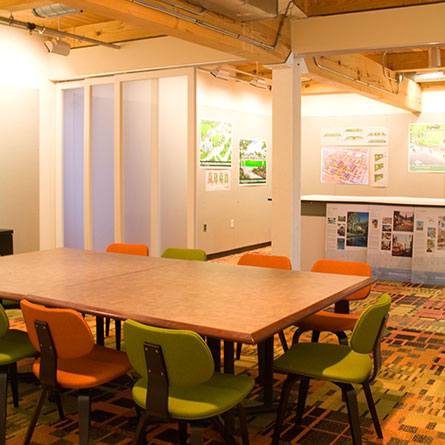 Architecture
Offices encompassing 9.400 SF within a historic shell, included the addition of new partitions, finishes, and dynamic lighting to augment the space. Additional improvements include a sliding translucent dividing wall and spiral stair to increase spatial flexibility and visual appeal.
Interior Design
Double-height spaces are punctuated by large hanging light fixtures and open offices with neutral tones. Adjacent windowless areas inspired the selection of dynamic colors, patterns, and forms. Workstations and offices are of a combination of off-the-shelf and custom pieces.