900 East Fort Avenue. Baltimore, Maryland.
Anthem House is a unique, exciting mixed–use residential and commercial project.
This new $80M multi-story, urban revitalization project is anticipated to include 292 apartments, 20,000 SF of street-level retail, and 443 structured parking spaces. The site improvements of the former industrial location will include the demolition of existing site features, the creation of vehicular and pedestrian access points from Lawrence Street and Fort Avenue, coordination with existing utility infrastructure and the retaining wall along Key Highway, innovative stormwater management facilities, streetscaping, and extensive permits/approvals and developer's agreements.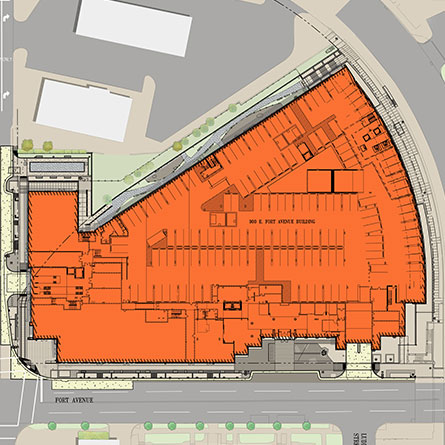 Civil/Site Development
Field investigations and site layout services were provided along with utility services, streetscaping, SWM, and traffic issue maintenance. Additionally, project SWM/ESC and developer agreement approvals from Baltimore City were prepared and expedited by our civil/site development team.
Mapping/GIS/Surveying
Topographic and boundary surveys were performed.
Environmental
Site investigations were performed, including forest stand delineation. Permits/approvals were prepared and expedited from the Chesapeake Bay Critical Area Commission for critical area issues.