7800 York Road. Towson University.
A 115,000 SF 1960's office building was transformed into a 140,000 SF signature building gracing the new southeast campus gateway.
This facility houses administrative offices, classrooms, computer labs, the University's printing operations, retail space and a full-service restaurant. The exterior façade terra cotta tile rain screen system blended with the historic campus context, while glazed open corner stairways and student lounges provided a strong sculptural presence. Creative design utilized topography to mask the 1,100 car parking garage, which enabled the University to maintain one its most treasured campus amenity, the natural wooded area known as the Glen.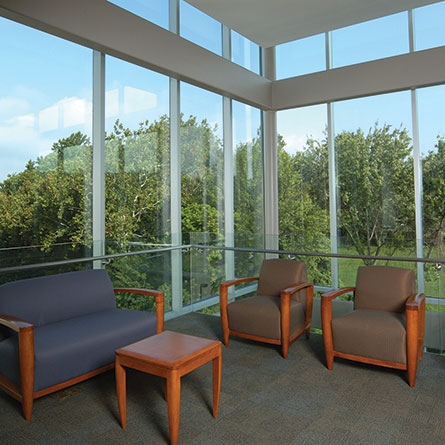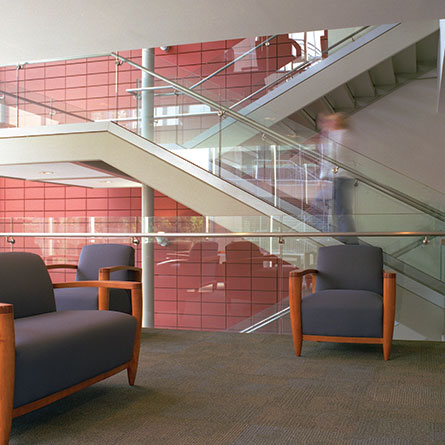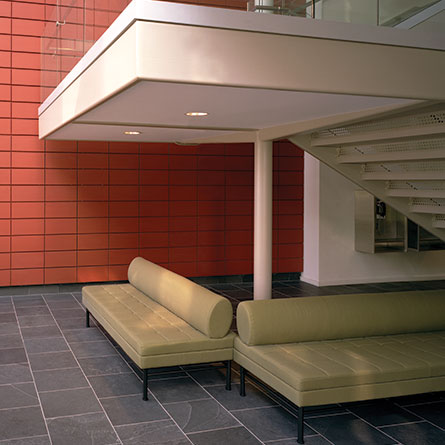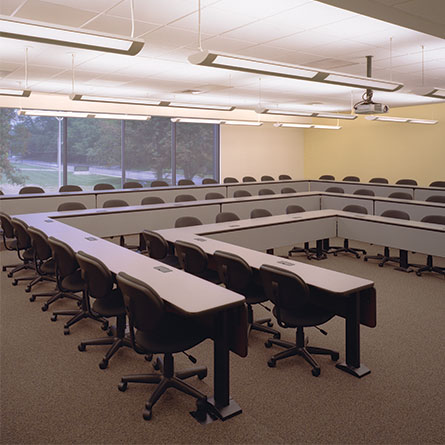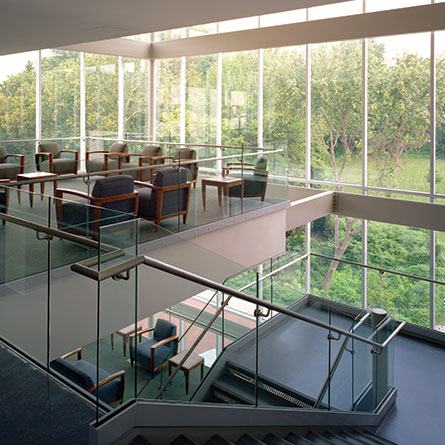 Architecture
The addition provides larger structural spans required for classrooms and labs.
Interior Design
The northwest corner features an open stair connecting four floors with open lounges and break-out spaces at each level. Stone pavers and linoleum flooring were used in high traffic areas.
Civil/Land Development
Roads, parking lots, pedestrian routes, grading, utility infrastructure systems, stormwater management facilities were designed, and erosion and sediment control measures. All permits and approvals from Baltimore County and MDE were secured.
Electrical
Electrical power was obtained from a 13.8kV switchgear within the campus. A unit substation was provided for ctepping down the voltage to 480/277 Volts. An emergency generator was also provied to support the life safety system. WRA also provided Special systems design which consisted of fire alarm, telephone-data, and security.
Fire Protection
Plumbing and fire protection systems have been completed renovated. The fire protection system has been upgraded to provide a fully sprinklered building in accordance with NFPA requirements and the plumbing systems were provided in accordance with ADA requirements. Temporary services and construction phasing were implemented to maintain restaurant operations throughout the building demolition and construction phases.
Mechanical
Extensive HVAC renovation connected building to district chilled water and steam systems. Variable volume diffusers were provided for professor's offices to permit energy efficient individual temperature control in spaces with varying occupancy. Existing restaurant was maintained in operation throughout construction.
Mapping/GIS/Surveying
Topographic surveys were performed for the area between 7800 York Road and Stephens Hall on the campus of Towson University. These surveys were required for the design of improvements to the adjacent parking structure site and pedestrian walkways.