School Bell Road. New Castle County, Delaware.
To address safety and geometric concerns as well as pedestrian and bicyclist needs, WRA redesigned School Bell Road as a complete street.
WRA was responsible for the design and preparation of construction documents for the reconstruction of approximately 1.2 miles of School Bell Road in Bear, Delaware. These improvements were required to improve safety for all travelers and to provide better mobility options for bicyclists and pedestrians. The typical section of the roadway included two 11-foot travel lanes and two shoulders that varied in width from five to six feet. The project also included five-foot concrete sidewalks on both sides with a grass buffer between the sidewalk and roadway. A ten-foot-wide shared-use pedestrian and bicycle path was built along US 40 as part of a continuous system of paths along that highway. School Bell Road was named the ASCE Delaware Section's Project of the Year.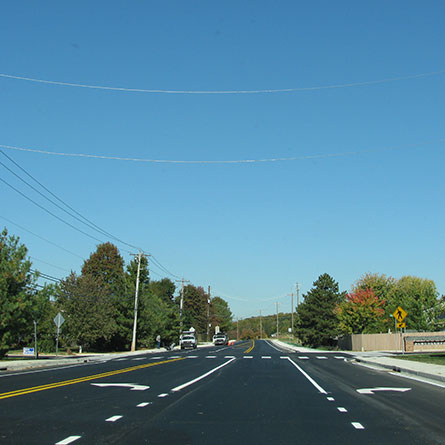 Highways/Roadways
WRA provided comprehensive engineering services during concept development, final design, and construction. The roadway improvements included complete reconstruction, including realignment of a "broken-back" curve with a single horizontal curve with appropriate superelevation.
Pedestrian/Bicycle
School Bell Road was a model for how complete streets can be constructed in suburbanizing areas in Delaware. Sidewalks were provided in all areas where pedestrian demand is anticipated, and bike lanes are continuous throughout the project area.
Water Resources
Drainage was improved by adding a closed storm drainage system tying into new and retrofitted stormwater management facilities. Proposed swales were designed to accommodate runoff that was unable to be treated by the stormwater management ponds.